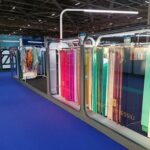 Première Vision Paris 2023
Argomenti Tessili will be present at Milano Unica 2023 from 11 to 13 July with a dedicated stand.
Milano Unica takes place every six months with the participation of the most important Italian and European manufacturers. It is a reference point for the textile field and for accessories, it offers great international visibility in the textile world in a very qualified and skilled context, in line with the quality of the products.
It is designed on customers' needs and it is very selective and detailed, it is conceived to offer the best products on a global scale ahead of time.